Newsletter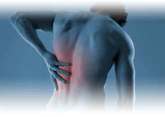 Welcome
Greetings…and thank you for visiting our web-site. By navigating this site in the usual fashion you will find the usual things such as hours, location, what we do, what you can expect and some photos.
In the next few paragraphs I will share a few things that do not normally appear on a web-site. Upon graduating from Palmer College of Chiropractic in 1981, we (my wife Dara and I) moved to Three Rivers and took over a struggling practice. We were too young and ignorant to know any better, but it was the best mistake we ever made. Everything has worked out splendidly and we could not have made a better choice.
Being a chiropractor is nearly as much fun now as it was then. Each patient is a unique individual with their own set of concerns. The challenge of understanding their obstacles to health and what their goals are is what keeps my head in the game and makes it fun. Because everyone is different, striving to communicate in the patient's style adds to the enjoyment of caring for people. After 32 years, practice is still a blast!
For over thirty years I was the only chiropractor in the office and thought it would be this way until someday retiring. That is until my wrists became sore and our oldest daughter graduated from Palmer (February 2012). After graduating she came to work as an Associate Chiropractor and it was a good experience for everyone: patients, staff, Dr. Kiersten and my wrists. Dr. Sarah Kirn joined the practice in July of 2012 when Dr. Kiersten made her planned departure for Gainesville, Florida, to establish her own practice. When you come to our office, you will be adjusted by Dr. Kirn or me, depending on who is available.
We try to make each appointment convenient, enjoyable and respectful of your time. We look forward to meeting you someday.